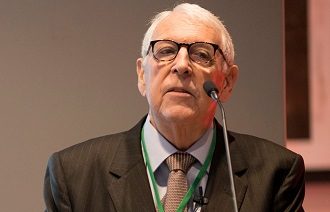 TRA's Peter Taylor becomes UK's only Vice President of ETRA
Peter Taylor OBE, Secretary General of the Tyre Recovery Association, has been elected Vice President of the European Tyre Recycling Association (ETRA) nine-member board. The Board, comprised of nine members, oversees the formation and execution of ETRA's strategic priorities and focus areas. Taylor is the only UK representative on the board.
The ETRA is an independent member-driven organisation of recycling professionals in Europe and a partner member of EuRIC (European Recycling Industry Confederation). This partnership work with other recycling organisations, waste management bodies and government agencies aims to ensure recyclers' concerns are taken into consideration in the development of EU legislation.
ETRA and its partners are currently working towards the point at which recycled tyre materials may freely enter into the EU material stream – without the onus of 'waste management' edicts.
Taylor has over 50 years of international experience in the tyre industry, with more than 20 years focused on the tyre recycling sector. Prior to his current role for the TRA, Taylor was Secretary General the Imported Tyre Manufacturers' Association (ITMA), for 35 years during which time he organised biennial conferences in Asia/Australasia.
Peter Taylor OBE, Secretary General of the TRA, said: "My appointment to the board of ETRA reflects the need for a collaborative cross-border approach to pioneering sustainable solutions for the tyre recovery sector. In this context, 'cross-border' does not simply mean between the EU and UK, but equally between partners and stakeholders in the waste management stream, including governments, as we seek to deliver a truly Circular Economy. I'm delighted to have accepted the position as an ETRA Vice President and look forward to helping to progress our shared goals."